Retail Graphics
Designed to get people moving in your direction, retail graphics from Graphic Concepts include window graphics, wall graphics, floor graphics, and pole wraps. All retail graphics can be produced to your exact specifications in any size or shape you require, and Graphic Concepts requires no minimum order quantities.
Window Graphics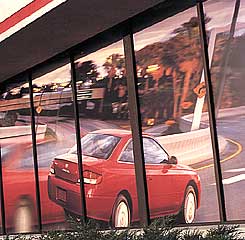 An exciting way to get people into your store—and interested in what you're selling—window graphics from Graphic Concepts can be created in any size, shape, or style you require. Standard window signage, adhesive graphics, and perforated window film are all options. Whether you need to highlight one product or outfit an entire wall of glass with your company image, Graphic Concepts has the window graphics you need to create the effect you're looking for.
Window graphics are perfect for exterior and interior point-of-purchase strategies, high-traffic areas, waiting rooms, and service areas. And because Graphic Concepts isn't limited by any size or shape constraints, the directions we can take your window graphics are endless. Imagine the possibilities—and then have us turn them into a reality.
Wall Graphics
Ideal for both interior and exterior applications, wall graphics from Graphic Concepts can be used to showcase an upcoming event, advertise a specific product, or create an atmosphere which ties in to your latest promotional effort.
Wall graphics can be created using either a digital or screen printing process, and our state-of-the-art technology allows us to deliver a clarity previously unavailable in our industry. Produced using an eight-color process, wall graphics from Graphic Concepts are available as murals, banners, hanging signage, and building wraps.
Floor Graphics & Pole Wraps
Want to put your message where it can't be missed? Floor graphics and pole wraps are an easy way to make sure your product gets noticed. Available in both indoor and outdoor materials, floor graphics and pole wraps from Graphic Concepts can be cut to any size or shape you require. Our high-resolution printing process ensures that your image is as clear as possible, and our no-minimum policy means you can purchase exactly the number of items you need.
Turnkey Service
Your one source for window graphics, wall graphics, floor graphics, and pole wraps, Graphic Concepts can handle the production of your next retail graphic project from start to finish. From our first meeting to design, production, and installation, Graphic Concepts will make sure your retail graphic application is a profitable and trouble-free experience.
For more information on window graphics, wall graphics, or other Graphic Concepts products, please e-mail us today or call 800-645-7906. We look forward to hearing from you.