Rail Markings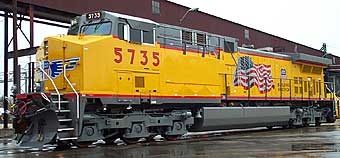 A supplier to the locomotive industry for over 10 years, Graphic Concepts produces high-quality rail markings for America's biggest railway lines. From high-end interior and exterior labeling to warning and control panel markings, Graphic Concepts handles every aspect of rail marking production, from design to installation.
Part of an industry dependent on bright, bold corporate color schemes, railway lines across the country rely on Graphic Concepts to ensure that entire fleets of train cars are outfitted with today's most eye-catching rail markings. Whether you require a simple striping pattern or a rail marking configuration consisting of a four-color-process graphic image, Graphic Concepts can handle your rail marking application from start to finish.
Rail Graphics—Design & Production
From your initial concept to rail graphic production and installation, Graphic Concepts is a design partner you can depend on to turn your railway line into a striking graphic representation of your commitment to a high level of service. All rail graphics designed and produced by Graphic Concepts are the result of today's most innovative rail graphic technology, and every railway line we outfit is guaranteed to make a striking impression.
Warning Labels, Nameplates & Control Panels

Beyond your main rail marking package, interior and exterior rail graphic labeling is another Graphic Concepts specialty. From warning labels to nameplates and control panel identifiers, Graphic Concepts can make sure your entire railway line is outfitted with consistent, hard-to-miss rail graphic labeling. Rail graphic labeling can be produced in any size, and Graphic Concepts requires no minimum rail graphic quantity. Rail graphic labeling can be produced in both digital and screen-printed formats and as metal-photo nameplates—all under one roof!
Turnkey Production
The Graphic Concepts production philosophy is based on allowing you to rely on one source for high-quality rail markings, warning labels, nameplates, and control panel identifiers. A company focused on the customer experience, Graphic Concepts will go out of our way to make sure your rail graphic project unfolds as smoothly as possible.
For more information on rail markings, rail graphics, or other Graphic Concepts products, please
e-mail us today or call 800-645-7906. We look forward to hearing from you.