Fleet Bus Wraps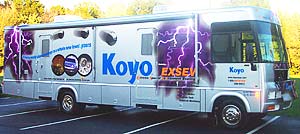 Rolling billboards that never sleep, fleet bus wraps from Graphic Concepts create a striking visual image that's impossible to ignore. A vibrant, colorful way to convey your message throughout your city 24 hours a day, fleet bus wraps can be tailored to your exact specifications and expertly installed by a Graphic Concepts installer. And, with perforated window graphics, every inch of exterior space can be put to use.
Bus Wrap Design & Production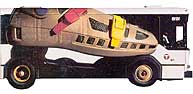 Constructed with the industry's most innovative materials, fleet bus wraps from Graphic Concepts become a seamless part of the vehicle they're adhered to. Graphic Concepts' large-format printing capabilities mean fleet bus wraps can be produced in any size or shape you require, and our expert installation team will make sure your wrap is a perfect fit.
Graphic Concepts is also home to a full-service design department, and our graphic designers can help you turn an existing fleet concept into reality or orchestrate the production of an entirely new bus wrap design. And, with our state-of-the-art digital imaging equipment, your fleet bus wraps will be as clear and as vibrant as possible. Graphic Concepts has the equipment and experience needed to get the job done right.
A Full-Service Supplier
At Graphic Concepts, our fleet bus wrap production capabilities mean you can rely on one source for bus wrap design, production, and installation. From our initial project meeting to design concepts to final installation, Graphic Concepts will remain focused on making sure your bus wraps meet your every objective.
For more information on fleet bus wraps or other Graphic Concepts products, please e-mail us today or call 800-645-7906. We look forward to hearing from you.