Aluminum Nameplates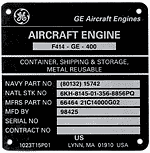 Aluminum nameplates from Graphic Concepts are created using an advanced photographic process which results in superior image sharpness and an extremely durable product. In fact, Graphic Concepts aluminum nameplates can withstand up to 20 years of direct UV exposure with limited degradation. Whether used for warning signs, machinery identification, instructional signage, or department designators, aluminum nameplates from Graphic Concepts are a long-lasting graphic solution.
Turnkey Production
As a single-source graphics manufacturer, Graphic Concepts can expertly handle the design, production, and delivery of your aluminum nameplates. From start to finish, Graphic Concepts will ensure that the service—and finished product—you receive from us is nothing short of exceptional.
For more information on aluminum nameplates or other Graphic Concepts products, please e-mail us today or call 800-645-7906. We look forward to hearing from you.