Banners
Ideal for an array of applications indoors and out, banners from Graphic Concepts offer sharp imagery, bright colors, and the ability to stand up to the elements. Banners can be produced in any shape or size you require, and Graphic Concepts requires no minimum order.
Perfect for shopping malls, arenas, concert halls, museums, hotels, and resorts, banners from Graphic Concepts can be produced in a variety of substrates. Whether you require banners in vinyl, fabric, or other textile, Graphic Concepts can deliver a high-quality product created to your exact specifications.
Banner Production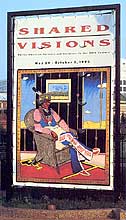 At Graphic Concepts, our one-source manufacturing approach means we can take care of every aspect of the production of your vinyl or fabric banners. From our initial project meeting to design concepts to banner installation, Graphic Concepts will make sure your banner application is a profitable and hassle-free experience.
For more information on vinyl banners, fabric banners, or other Graphic Concepts products, please e-mail us today or call 800-645-7906. We look forward to hearing from you.