Truckside Advertising
One over-the-road fleet vehicle creates over 10 million visual impressions in a single year.
Over 90% of travelers notice the graphics and words they see on fleet vehicles.
75% of consumers form an impression about a company based on its fleet graphics.
30% of people base buying decisions on impressions they receive from company vehicles.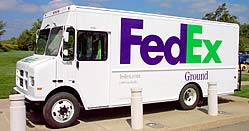 With these types of numbers in mind, your fleet graphics can't afford to be anything but exceptional. That's why it pays to invest your fleet identification dollars in Graphic Concepts, a specialist providing companies around the country with the most eye-catching vehicle graphics on the road today.
Graphic Concepts can help you turn your fleet graphics into your most cost-effective advertising avenue. In fact, studies have shown that, when placed on vehicles which average 100,000 miles a year, fleet graphics can make 1000 visual impressions for as little as 18 cents.
The image quality of truckside advertising produced by Graphic Concepts is unequaled in our industry. Available in both digital and screen-printed formats, our fleet graphics are the result of a state-of-the-art process which allows us to deliver razor-sharp images and bright, bold colors previously unavailable with large-format printing.
No Vehicle Minimums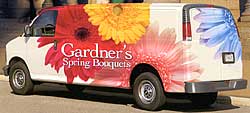 At Graphic Concepts, we welcome truckside advertising projects of all sizes, and we require no vehicle minimums. From one truck to an infinite number of fleet vehicles, Graphic Concepts can plan, design, manufacture, and install truckside advertising designed to create more visual impressions than the rest of your advertising efforts combined.
Turnkey Production
At Graphic Concepts, our production philosophy is based on enabling our customers to rely on one source for fleet graphics and truckside advertising—from start to finish. From our initial meeting to design concepts to installation, Graphic Concepts will go out of our way to make sure your next fleet graphic or truckside advertising project is a successful, hassle-free experience. And, with nationwide warehousing and drop shipping service, your fleet graphics will be delivered when you need them, where you need them.
Guaranteed Fleet Graphic Performance
The durability of your fleet graphics and truckside advertising is as important as their visual impact. Your fleet graphics and truckside advertising components will be fully backed by outstanding manufacturer warranties.
For more information on fleet graphics, truckside advertising, or other Graphic Concepts products, please e-mail us today or call 800-645-7906. We look forward to hearing from you.
Fleet Graphic/Truckside Advertising Statistic Source: The American Trucking Association.